Marathon Mania
Added on 17 April 2011
Late last year Tom told me that my name had come out of the hat for the club's one and only place in the 2011 London Marathon, stunned at this news it took several days to decide to go ahead and do it, conversations with my family revolved around whether to run at London or Lochaber. Unanimously though it was decided that as this might be the one and only chance I'd get to run at the world famous event in London Town and I took the challenge on; admittedly with some reservations that this middle aged body could get fit enough to go the distance.
And so it begun on the 6th December 2010; 19 weeks of training for the event, 5 days a week of running with a few circuit training sessions each week added in for extra fun! Rain, snow, hail and wind it didn't matter, the running had still to be done. Luckily with the help of Alasdair (oor lead coach) who kept me motivated daily to get out the door and run, Annelise and Graeme who kept me company on many of the long training runs, I got through the training without injury and made it safely to the start line at 09:45hrs on 17th April 2011. I thank all three of them wholeheartedly.
Nervous and excited I sat on the grass at Blackheath London, waiting for the start, celebs that were running being shown on the big TV screen for all to see... Iwan Thomas (former 400m runner), Will Young(think he can sing a bit) among others. The weather seemed okay, not too hot and a bit hazy, if only it had stayed so cool!
Anyway thousands of runners lined up behind the elite men at the blue start, me way back in pen number 7, eventually making it across the start line at 09:52, the race was on. Fairly crowded but everyone was going okay for the first couple of miles, I indulged in a bit of energy sapping weaving out and in to pass people. Already there were crowds cheering at each side of the road, live music being played, no need for the ipod/mp3 player at all for this race. I was really doing this! The atmosphere from the general cheering public was awesome.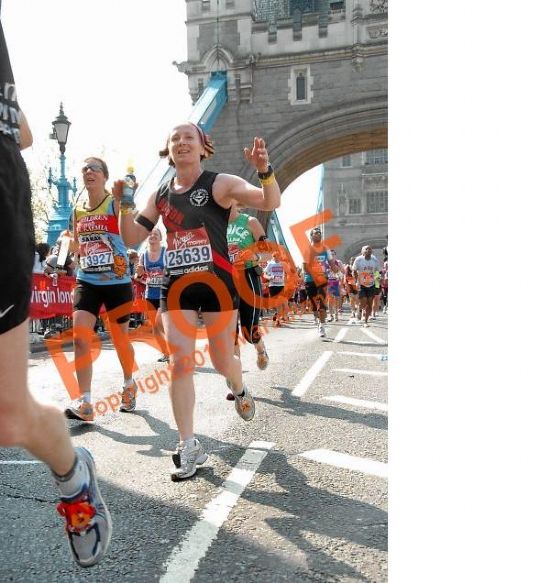 Somehow after finishing my own drink that I had started out with I managed miss the first Lucozade sport fuel point at mile 5 and had to pick up a water instead at the next mile marker. That was fine though still running well and feeling okay. Collected the sports drink at the 10 mile mark and continued to run, getting a bit warmer now though the sun had burnt off the hazy cloud. I'd been told that the rise over Tower Bridge might feel tough, but it didn't really, perhaps more to do with the huge crowds here and complete strangers yelling encouraging words of support, half way and still running, still coping, still nothing hurts, but feeling much hotter now. Lots of runners giving high fives to lots of kids, I only gave one high five to an old man in a wheel chair, impressed that he had made the effort to cheer me on. Took on an energy gel soon after half way along with some water. Now you would think under normal circumstances that a water bottle would just collapse or be crushed if you stepped on it? But no.. mile 15ish I step on one, it rolls with me on it, hip is displaced/wobbled to the side... bit of a fright, and think must look at the road in front instead of the crowds.. small amount of pain in the hip now, but keep running, my pace drops though as the pain bites and the temperature continues to rise! (about now Annelise texts "just keep going") Not wishing to be famous for a Paula Radcliffe type toilet stop, I made a visit to one of the porta toilets. Too much info – probably!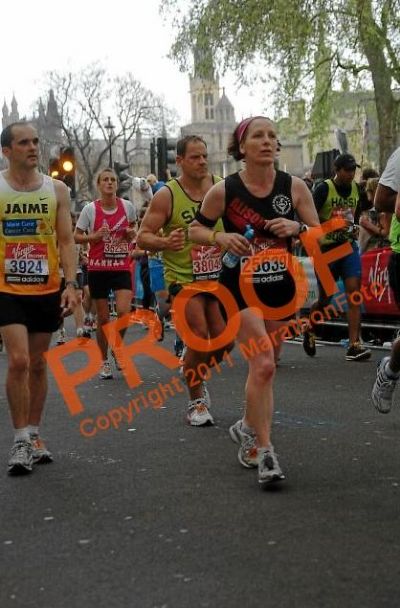 To be honest the next few miles are a bit of a blur... I could breathe, my legs were okay, just the pain in my hip and the heat... enough of the excuse making, this was much tougher than I expected it to be, but as Lance Armstrong said "Pain is temporary, quitting lasts forever" I pulled myself together and the last few miles were fabulous, especially along Birdcage walk, Buckingham Palace and into the mall, nothing prepares you for the feeling of emotion at the 800m to go, 400m to go signs, masses of people, willing and cheering every single runner to keep going, the finish line was there, I had made it, me! 26.2 miles.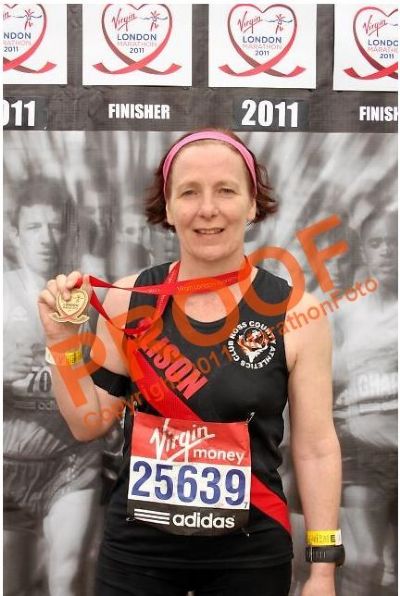 Alison C
Some more pics here: http://www.marathonfoto.com/index.cfm?action=site.login
So who's turn next year? :-))