Oh Deer! We've Gone & Dunnet Again ..
Added on 23 June 2010
Musketeers were at it again last night!
After leaving Club training early Alison & Annelise started to head North, picking up Steve on the way, to make our way to join "Barry the baton and Offord (Maurice) in the cross country route between Dunnet and Dunnet Head around the coastal headland!!
I mean how often to you get to do a cross-country midnight run at the most northerly point of mainland Britain and its part of something much bigger?!
So after a fairly uneventful drive up - save for the slight collision with a deer - deer ok; Alison's car bumper cracked with some hairy souvenirs - and the stop in the pub to get directions to the starting car park - we finally arrived and for a few seconds wondered if we had the right spot ...... until we saw Offord walking down the slope after checking it out!
Tina (Dunnet Head Educational Trust) & her husband then turned up, along with another couple to 'send us off' ..... and so we were ready to embark on the next adventure starting at the bottom of the hill at about 23:00 ...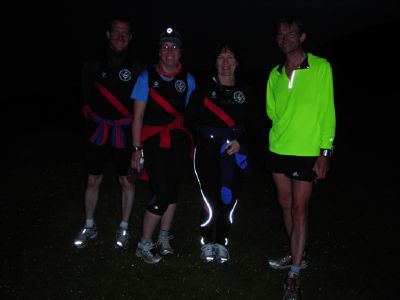 .... After a couple of map reading sessions, hills, bracken, scrambling sessions, cotton-grass fields, bogs, more deer, birds, sheep, possible haggis' scurring through the undergrowth, trips, falls, several more stumbles, more hills, views across to Orkney, trainer being lost (& retrieved) from a bog, forging our path across the headland, midgies and the odd tick or two we finally got to the Dunnet Head carpark .......... 5.3 miles and about 1hr20mins later ..... to be met by the "Welcoming Committee" of Tina & her husband and Isbael & her husband with glasses of Buck's Fizz, bananas and crisps.
After a final photo by the sign we said Goodbye to Offord and Adieu to Barry as they made their way off to do the last 3 miles and we got a lift back to the car.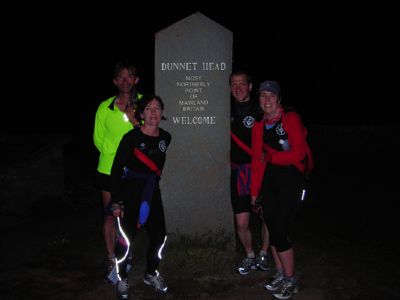 The journey back down was uneventful this time - except for the fog patches - we all managed to get to our beds by 4am - ready for a full day's work!
It was an amazing night and can't wait for Barry to come to us on Monday 28th June .....