Scottish Schools Success
Added on 03 February 2017
Some fantastic news from the Scottish Schools meeting down in the Emirates Arena. Well done to the boys and their Coaches, Andrew MacFarlane and Roz Maclennan.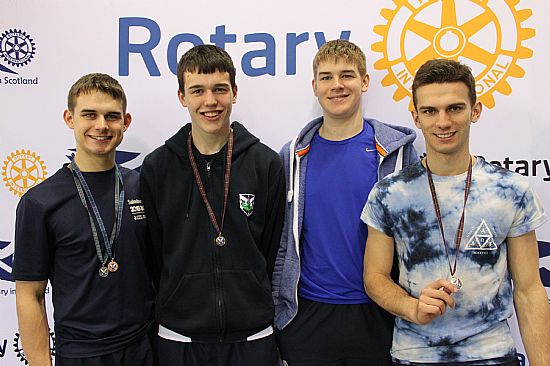 This report from Coach Andrew MacFarlane
Day one update from Scottish Schools

Andrew McFarlane O16 Pole Vault GOLD
Daniel McFarlane O16 Pole Vault BRONZE
Alexander Mackay U16 Pole Vault 4th place and New PB 2.95m, Shot Put 5th place.
Reuben McFarlane U16 Shot Put 4th and big PB of 11.85m - 1st in Scotland and 3rd in UK on Po10.
Good day almost a great day! (Andrew, you are a hard man to please! Well done to you, Coach. Tom)
Day 2 Scottish Schools update.

Another good day at the office!
Alexander Mackay U16 60m SH Gold and PB (despite giving us all scare at hurdle 3 )
Daniel McFarlane O16 60m SH Silver and PB.
Reuben McFarlane equal PB U16 HJ.

In total 4 medals and 4PBs. Well done boys!