Stirling Inter Districts
Added on 12 January 2019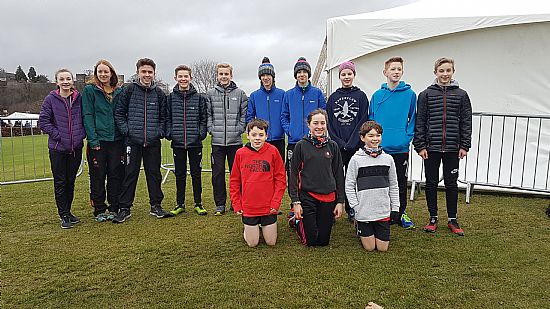 Fifteen Ross County AC athletes took part in the Inter-districts event,
part of the Great Stirling XC on Saturday 13th January, either
representing Team North or a joint Universities Team. They were pitted
against teams from the East and West with the standard of competition
being very high.

The day started well with the U13 boys and girls - Sam Coull, Zak Fearn,
Douglas Maclennan, Morag Lynch & Femke Waite being the first to take on
the new course at Kings Park Golf Course. They all worked hard in a
tough field over 3k and in the girls race Team North were delighted with
a win from Anna Cairns of Inverness Harriers.

They were closely followed by the U15s - Hamish & Fergus Whiteside,
Ruaridh Ellen and Morag Hickey who ran a slightly longer 4k course. In
the boys race Anna's brother Lucas won to make it a double success for
the Cairns Family!

In the U17 boys race Danny McPake, Kyle Sutherland & Alex Ellen all ran
well over the 5k course and were pleased with their performances.

Vikki Thompson was the first Senior Ross County lady to represent the
club at this event in many years, if ever! The standard was extremely
high, but Vikki worked very hard and did herself proud over the 6k course.

Finally In the men's 8k race Hamish Hickey had an outstanding run and
was first Team North male home in a very strong field. He was also the
first U20 runner from Scotland which was an incredible result. Finlay Todd, running for the Universities Team was not far behind also.
The results are available here.