National XC 2014
Added on 07 March 2014
Less than a week after the National Indoors, we had the delights of the National Cross-Country Championships, held in Falkirk on Saturday 22nd March. As it was an early start, we opted for a late Friday afternoon trip to the Premier Inn, Falkirk, ready for a good nights rest, a hearty morning breakfast and an early walk round of the course. Saturday came in with some heavy showers, but diasppeared in time for the walkround and indeed the racing. So Sean Kelt, U13, Calum Coul, Adam MacLellan, Logan Mathieson, Finlay Todd, U15s and Douglas Holland U20, with Tom Todd and Mathieson, slid and squelched the walk-round of a slightly hilly, but very muddy course, set in the grounds of Callendar House. All of the races attracted large fields of over 100 athletes, with the elbowing and jostling for position on the start lines resembling scenes from "Braveheart" . Every race involved a mad dash for about 150 yards then up a muddy hill, followed by lots of the same undulations and a final run in, along the main park entrance, of what must have been a good 500 yards.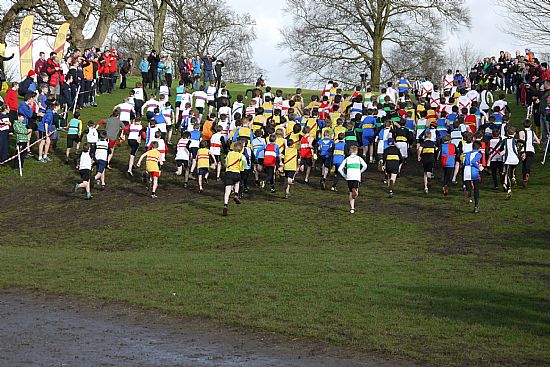 The black n reds didn't come home with any medals, but they made the long homeward journey North in great spirits, with heads held high, having aquitted themselves well in their first taste of an extremly competitive National Championship.
My thanks to all of these young men for their sportmanship and behaviour, a credit to the vest and to Tom Todd for driving us all South and North, safely and in comfort, maybe a bus full next year?